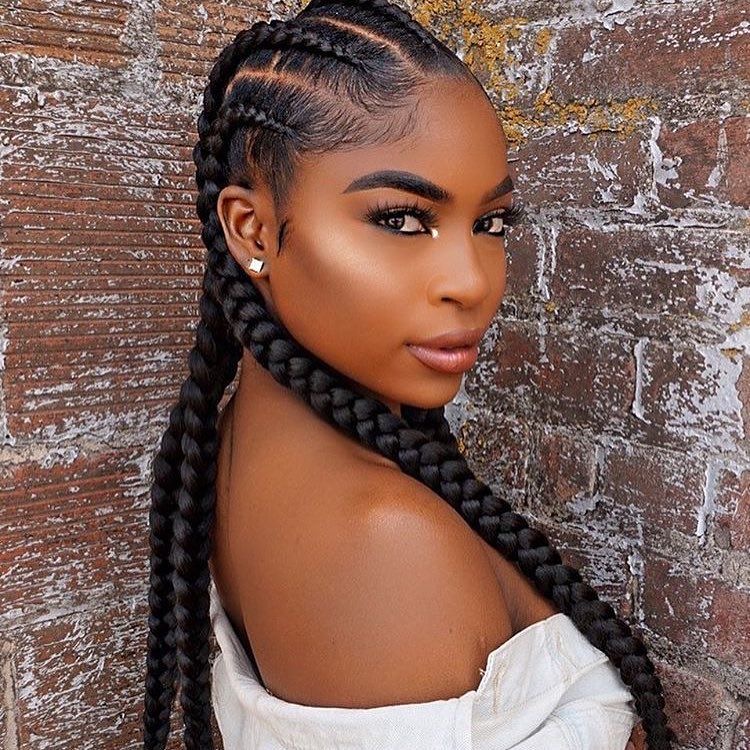 by Kimberly Logan
Hair braiding has come a long way since the 1960s and 70s when cornrows and plaits were not only a convenience but also a statement of political expression. Times may have changed but cornrow styles keep getting more and more popular with new updates to an old favorite. For those who want a more natural look—with a little or a lot of length—feed-in braids are a great protective styling option.
What are Feed-in Braids?
This style of braiding requires "feeding" the extensions into the natural hair close to the root. The braids start out small at the beginning of a row and widen as they advance toward the nape of the neck as more hair is added. Unlike box braids in which the knot where the braid begins is pretty obvious, feed-in styles allow for extensions to be seamlessly combined with natural hair, so it's much harder to see where your hair ends and the braiding begins. This technique makes for a very smooth and polished look.
The feed-in braid styles below are modern, stylish, and easily transition from a casual to a professional look. One huge advantage for the woman concerned about time is that feed-in braids don't take as long to complete as other braid styles. On average, you can expect to have the process completed in about 1 to 3 hours. Plus, it's easy in and easy out! Takedown time is quick when you're ready to shampoo and switch it up.
Feed-in Braid Hairstyles
Your options are truly endless. These popular looks give you a ton of selection.
Are Feed in Braids Right for You?
Feed-in braids look great, can be styled a number of ways, and cut down on "get ready" time in the morning. When determining whether or not feed-in braids are the right look for you, however, there are some things to consider: First, think about the cost, maintenance, and duration of wear. Prices for braiding are generally reasonable but vary by stylist. A cornrow updo, for example, are usually $75 and up but the more extravagant the style, the higher the cost. Another thing to consider is that feed-in braids, like any braiding style, puts tension on the hair. If your hairline is already fragile, you may want to pass on any protective styles until your hair is healthier and stronger.
Keeping your braids looking fresh
Wearing a satin or silk head scarf at night will keep braids looking their best. If you're someone who sweats a lot or simply cannot stand head coverings, a silk or satin pillowcase will work too. Another very important maintenance tip is to moisturize the scalp. While you're moisturizing your hair and scalp, don't forget about your edges. Keeping them in check will also go a long way toward extending your style and keeping your hair looking sleek. Serums, shampoos, and conditioners that tame frizz and products made with shea butter will help to keep the hair looking smooth.
Washing the braided hair and using a leave-in conditioner is also recommended to keep the hair smelling fresh and to prevent breakage and build up. Wearing braids is a wonderful protective option but care is still required to maintain healthy hair underneath them. Keep in mind too that new growth will become apparent after a few weeks and since maintaining a pristine braid style is the goal, it is best not to leave Feed in braids in place longer than six weeks.
Find a Braider
Now that you have the intel on maintenance, styling time, costs and the convenience of feed-in braids, head on over to Swivel to find trusted braiders who care as much about your hair health as they do your style.